It's not enough to just use energy-efficient bulbs and fixtures. Develop good energy habits and you'll see a difference on your electricity bill.
How to light your home
Good habits
Install the right number of lights for general room lighting as well as lighting to accent something in the room or provide better light for specific tasks, such as in a reading corner.
During the day, take advantage of natural light as much as possible instead of turning on artificial light.
Use a desk or table lamp for task lighting (for reading or working on a horizontal surface, for instance). It directs strong light on what you're doing, while a ceiling lamp creates diffuse, less efficient mood lighting.
Opt for reflective light colors (white reflects 80% of light, while black reflects barely 10%) to reduce your need for lighting. Brighter lights are needed in a room with dark walls and ceiling.
Place floor and table lamps in corners rather than along walls. That way their light will be reflected by two walls, rather than just one, and better diffused throughout the room.
Energy-efficient products
Indoors: Small changes that make a big difference
Replace halogen and incandescent bulbs with energy-efficient LEDs
ENERGY STAR® certified LED bulbs use 70% to 90% less energy than incandescent bulbs.
Thanks to their long service life (at least 15 years), they are particularly useful in areas that are often kept lit and hard-to-reach spots.
Install dimmers instead of on-off switches. They allow you to control brightness as needed and, at the same time, save electricity and make bulbs last longer. Check the bulb package or manufacturer's site for dimmer compatibility.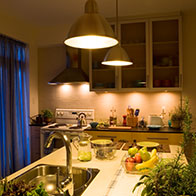 Outdoors: Every little bit helps
Replace outdoor lightbulbs with ENERGY STAR® certified LED bulbs and install ENERGY STAR certified LED fixtures
Even better, install ENERGY STAR® certified fixtures with motion detectors. They're practical and energy-efficient, because they go on only when needed.
Use solar garden lights. They don't add anything to your electricity bill, because they are powered directly by the sun.
For the holidays, opt for strings of ENERGY STAR® certified LED lights. Multicolor strings typically use 75% less energy than incandescent strings, and single-color strings use 90% less.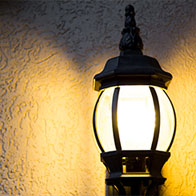 When to turn on the lights
Good habits
Make it easy on yourself: use a timer, programmable switch or motion detector to control outdoor lighting.
Turn off the lights when you leave the room or the house. It's not true that it takes less power to keep the lights on all the time than to turn them on and off as needed.
Turn off outdoor lights when you go to bed. You could save up to $40 a year (based on three 60-W bulbs left on eight hours a night all year).
Installation and maintenance
Good habits
Clean bulbs and fixtures regularly. They'll shine more brightly and you won't have to turn on as many lights or use such strong bulbs to compensate for the dirt.
Avoid having one switch control several lamps. That way, you'll never turn on more than you need.