Tips for small business owners
Saving energy is always a good business decision! Take these quick and easy steps to lower your electricity bill and increase your profitability.
Adjust your heating and air-conditioning
Did you know? Heating and air-conditioning can account for a significant portion of your annual electricity bill. That's why it's so important to reduce the amount of energy these systems use.
In occupied rooms premises, keep the temperature at 21 degrees in winter and 24 degrees in summer. Those areas will always be comfortable and the building won't be overheated or over air-conditioned.
In vacant premises, set your system to the highest or lowest acceptable temperature and close doors to avoid unnecessary heating or cooling.
Gradually adjust temperature settings to avoid starting all heating or air-conditioning equipment full on when your staff arrives.
Install a timer that adjusts the temperature of your premises based on when they're in use (during unoccupied periods: 18 degrees in winter and 26 degrees in summer).
Install electronic thermostats for more precise temperature control in rooms.
Install thermostats away from drafts and direct sunlight to ensure optimal functioning.
In winter, open your curtains and blinds during the day to make the most of the sunlight and maximize your energy efficiency. In summer, keep your curtains and blinds drawn to keep the sun out.
Reduce heat loss
Seal air leaks with weather stripping or caulk. This simple step will save you money even if your windows are new.
Make sure garage doors are airtight and open and close quickly.
Install ceiling fans to improve air circulation and distribute heat more evenly, especially in rooms with high ceilings (three or more metres) where air temperature isn't consistent.
Prevent hot air leakage by installing airtight dampers on your ventilation system's outdoor air intakes.
Insulate ventilation ducts and piping systems.
Bright ideas
Adjust your lighting to the tasks done in a given room and install an optimal number of fixtures to provide adequate brightness.
Position lighting fixtures so as to accentuate specific areas and make precision work easier.
Install a more efficient lighting system. There are a number of options that will generate major savings for your business. For example, you can replace old florescent tubes with newer, more efficient models or change your old lighting fixtures for LED lighting.
Install an occupancy sensor that automatically turns lights off when they aren't needed.
If you own a place of business with incandescent or fluorescent EXIT signs, replace them with energy-efficient LED signs.
Get smart about using electronics
Use all available energy-saving features on your electronic devices. Most electronic devices, such as printers and photocopiers, feature energy-saving settings. Teach your staff how to take advantage of them.
Learn more about standby (sleep) load and phantom power
Turn electronic devices off whenever they're not being used. Simply turning your business's computers off outside working hours will save you a significant amount of money and energy.

Install timers that turn your devices off when they're not being used (at night, over the weekend, during vacations, etc.).
ENERGY STAR®-certified computers with a standby mode option use less energy than conventional models (up to 90% in the case of laptops). Adjust the settings on your laptops so that they go into standby mode if unused for a given length of time. You'll save up to 70% of the energy these devices use at full power!

Avoid wasting energy by plugging your devices into smart power bars.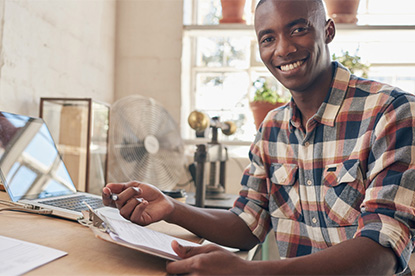 Are your units and systems well-maintained?
Well-maintained heating and air-conditioning systems are more efficient. Good maintenance habits like cleaning your system's coils and checking temperature sensors will save energy and lower your operating costs.
Change or clean (if possible) the filters in your HVAC system regularly. Clogged filters shorten your equipment's lifespan and harm indoor air quality while increasing energy use.
Clean windows and skylights regularly to cut down on your lighting requirements.
Saving energy pays off!
When you purchase electronic devices (computers, screens, printers, fax machines or photocopiers), opt for ENERGY STAR®-certified models that shut off automatically when unused for a given length of time.
Did you know that inkjet printers use 90% less energy than laser models? Make sure to choose a printer with a capacity that's appropriate for your business.
Before making a purchase, compare the energy performance information on product labels and choose your devices accordingly to generate major savings.
Look for the ENERGY STAR® label on all appliances, including refrigerators, dishwashers, washing machines, air-conditioning units, water dispensers, and others.
The heating elements in water dispensers use a lot of energy. Turn yours off if you don't use hot water very often.

A water dispenser can use more energy than a large refrigerator. Choose the model that best meets your needs.
Get all hands on deck
Fostering a working culture that promotes energy efficiency will help make your business more competitive. Have your employees share energy-saving responsibilities and work together to change your company's practices. Lowering energy consumption is a project that stirs employees into action and pays dividends in any business! Why not put up posters describing best practices for saving energy?
How can we help you?
Have any questions? Call or email us.
Business newsletter
Stay informed on our energy efficiency programs and our demand response offers.