Efficient Solutions Program

Simplified Option
Why choose the Simplified Option?
By signing up for the Efficient Solutions Program's Simplified Option, you'll take your renovation, retrofit or construction project up a notch.
*The advantages of hydropower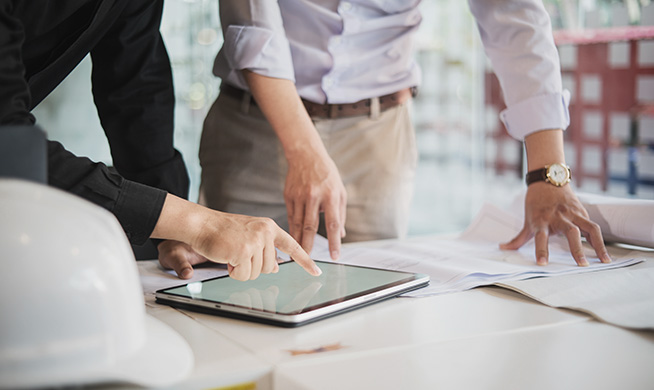 Play a key role with clients
Are you an engineer, developer, architect, contractor or master electrician? The Efficient Solutions Program lets you give your clients a competitive edge and makes you stand out in the market. It's simple—everybody wins!
Find out how to become a project aggregator
Calculate* the amount of financial assistance that you could receive
A quick and effective tool to:
assess the amount of financial assistance to which you are entitled
validate the eligibility of your initiatives
submit your request for financial assistance
How to use the OSE financial assistance calculation tool (In French only)
[an error occurred while processing this directive]
Participant's Guide, program eligibility and other useful tools
To be eligible, your project must:
be implemented in at least one eligible building
target measures designed to improve the energy efficiency of a building, a plant, a piece of equipment, a process or a system
The Participant's Guide contains a full list of eligibility criteria.
Download the Guide [PDF 620 Kb – in French only]
Other tools and legal documents
*Document for project aggregators – In French only
Over 200 measures available to businesses
Read about the main energy efficiency solutions among over 200 eligible measures eligible under the Simplified Option:
Thermal envelope improvements
Installation of roof units with heat pumps
Geothermal systems
Heat recovery systems (for gray water, air and pool areas)
Installation of heat pumps
Aerothermal systems
Installation of variable-frequency drives (VFDs) (range hood, HVAC system)
Use of efficient cooling systems and air conditioners
Refrigeration of food for grocery stores (CO2, ammonia, HFC)
Refrigeration of ice surfaces for arenas and curling rinks (CO2, ammonia, HFC)
Use of efficient ski hill snow cannons
Compressed air

Use of efficient compressors with VFD, desiccant air dryers, storage
Up to 200 HP

Electrotechnologies for industrial processes (e.g., induction heating)
Installation of variable-frequency drives (VFDs) for pumping processes
Cooling methods

Cooling systems

Water chillers up to 1,500 tonnes
Air coolers up to 150 tonnes

Use of volumetric and centrifugal chillers, with or without VFD
LED lighting

Use of lighting fixtures and DLC Premium lighting fixtures
Use of retrofit kits and lamps (pin-based bulbs and mogul base bulbs)
Adaptive control
Horticultural lighting (photosynthesis)

Solar energy (preheating air and water)
Efficient Solutions Program – Customized Option
The measures you have in mind aren't eligible for the Simplified Option? Our Customized Option could enable you to implement innovative efficiency measures that are just right for your company.
More about the Customized Option
How can we help you?
Have any questions? Call or email us.
Business newsletter
Stay informed on our energy efficiency programs and our demand response offers.